Aasun Eble, MBA
President and CEO
Aasun has been working with computers since the VIC 20 in 1981, and has built up over 20 years of professional technology experience in educational, marketing, business and non-profit environments.
While getting his Bachelor's Degree in Biology and Anthropology at the University of Southern California, Aasun worked in USC's Business School's Computer labs—training students and faculty in business application usage—he was active in holding Internet training seminars at USC's state-of-the-art Leavey Library. While at USC he also developed the first web sites and online communities for many student groups. Being a part of the birth of the public Internet ignited a passion. Aasun saw the Internet's potential and chose not to go to Medical School, but to continue his path in business technology.
After graduating in 1996, he took his skills and love of the scientific method into the advertising and marketing world where he became a technology leader building internet-based business tools, including online marketing and branding strategies, web application development, Content Management Systems, e-commerce and online community development. Working with The Phelps Group, Young & Rubicam/WCJ and US Interactive for clients that included: Toshiba, Roland Corporation, Panasonic, Ford, Lincoln, Mercury, Clorox, Brita, Taco Bell, Adidas America, American Express, Universal and Farmers Insurance, Aasun compiled a wide range of experience, including winning several awards for integrated media campaigns, state of the art kiosk experiences, and "best of" industry websites.
After several years in marketing technology, Aasun became the first Director of Technology for GLAAD (The Gay and Lesbian Alliance Against Defamation) and spearheaded the start of GLAAD's Digital Initiative. During his time at GLAAD, he actively shepherded GLAAD's strategic technology direction, including developing GLAAD's community action web site, email alert and response systems, CRM database application and Donor management software, and Integrated event management systems, as well as developing GLAAD's first Technology Department to support the continued technological growth of the organization.
Starting in 2004, Aasun has been a partner with Robb Ottenhoff at Ottenhoff Consulting, LLC applies his experience, expertise, and impeccable attention to detail to create customized technology solutions for a variety of clients. These clients have included Arianna Huffington, MTV, UC Santa Barbara, GLAAD, and MGM Home Entertainment. Additional clients range from non-profits, e-commerce/retail, law firms, property management companies, travel agencies, and content syndication. Ottenhoff Consulting's clients continue to have award-winning sites. With his wide-based experience in small- and large-scale projects and unique brand- and marketing-focused technology sensibilities, and high-level project management skills, he is able to quickly size up options and determine the best fit (value, technology, implementation) for their clients. Ottenhoff Consulting partners with its clients to develop Internet applications specifically tailored to clients' needs and success goals.
Adding to his vast arsenal of skills and experience, Aasun received his Master of Business Administration from University of Redlands in 2012.
Robb Ottenhoff
Chief Operating Officer
Robb Ottenhoff is the founder of Ottenhoff Consulting and serves as one of its primary partners. He is a systems security expert and is adept in systems administration, operations management and Internet-based software development.
Before he embarked on a career in the Internet industry, Robb worked in the retail and non-profit sectors, designing and implementing computer systems, as well as staff and volunteer training programs. He also served as a Computer Security Officer in the United States Air Force at the Air Force Flight Test Center in California.
In the early days of the Internet (circa 1995), Robb was one of the original development team members of the now famous GeoCities, which remains one of the world's most successful Internet community sites. After his time with GeoCities, Robb spun off the GeoCities web development division and created Bold New World in 1996. He served on its Board of Directors and as its Chief Technology Officer from 1996 to 2002. In 2002, with over 8 years of experience working with Internet technologies—and a unique approach to building customized technology solutions in a results-focused, customer-oriented environment—he launched Ottenhoff Consulting.
Brian Gillespie
Interface Design and Development
With an innate sense of how things work and fit together, as well as a skilled visual aesthetic, Brian Gillespie thrives in both analytical and creative endeavors. Brian's talents are uniquely suited for creating layouts and code that both work magnificently and are a pleasure to look at. He approaches every problem whether it be a new layout or application, from a point of elegance, striving to create the most efficient and simple output available. Having over 10 years of experience working in the advertising industry, he also has gained valuable experience in how to market a project. After ascending to senior graphic designer at Weston/Mason marketing, he has spent the last four years intensively expanding his level of expertise in web design and interactive media. With this new broadened creative repertoire, Brian has enjoyed designing materials for some of Los Angeles's premier companies.
Brian has created designs and developed applications for clients that have included MPA Media, TRUST! Hair Salon, CommonWealth Central Credit Union and Natasha Leggero.
In his off time Brian loves playing tennis, hiking, biking and developing pictures in his homemade darkroom.
Cheryl Hasegawa
Production and Integration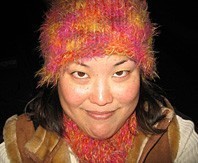 Cheryl specializes in web site and collateral design and production for clients ranging from individuals wanting a web presence, to small- to medium-sized businesses and organizations.
She has over 13 years of experience in the web design and development arena, starting with Netscape 1.0 while a student at USC. She has worked as a web producer for an advertising agency, a web developer for a dotcom and internet service provider, a web and graphic designer for a design talent agency, and a webmaster and graphic designer for a non-profit organization. Her specialty is bringing web sites from designed concept to finished product, while utilizing standards-compliant HTML and CSS. Her varied experience and skills make her uniquely qualified to offer clients complete custom design solutions.